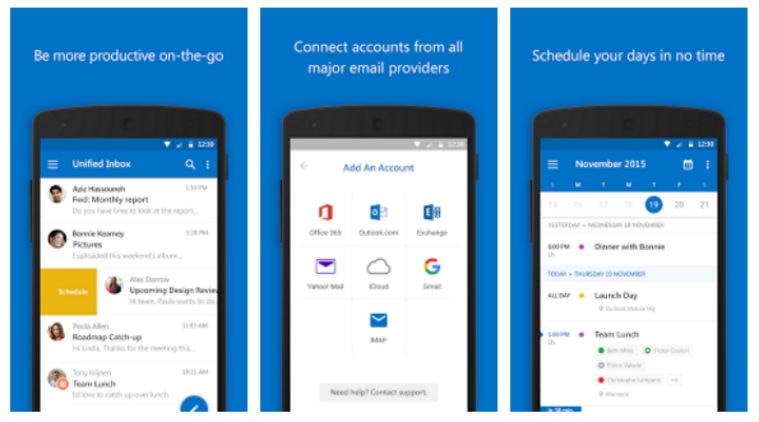 Since email gets popular and leading search sites like Yahoo, Google and MSN open up free email account registration, everyone at least gets 1 personal email account. Then depends on what role you are in, school email account, or company assigned accounts etc. Many many emails from different accounts everyday, how much you wish there could be a one-for-all hub that you can check every mailbox...
This has no longer been just an idea, Outlook has already executed it. If you don't believe it, try it by clicking the links below to download on your smartphone.
Download Outlook for iPhone:
https://itunes.apple.com/us/app/microsoft-outlook-email-calendar/id951937596?mt=8
Download Outlook for Android:
https://play.google.com/store/apps/details?id=com.microsoft.office.outlook&hl=en
All-in-one
The first thing comes in mind must be the all-in-one, multiple accounts login function. After Outlook acquired Acompli, this email app has became the most powerful smartphone email app among all. It now supports not only Microsoft Exchange, Office 365 and Outlook.com, but also covers Gmail, iCloud, Yahoo mail and all almost all IMAP accounts login. No more trouble in shifting through personal and business email accounts anymore!
User friendly gestures
The quick-swipe to archive and schedule email will certainly take over the place in your heart, replacing the tick boxes and click bottoms layout.
Email folders and filters
If you are familiar with Gmail filtering folders, you will find Outlook much simpler, just two sections: "Focused" and "Other". Stick to the focused group and you will instantly get the mail you want. There are also options for you to quickly filter flagged or unread emails. These all save time; the app really lets you worry everything else besides email.
Open connection
By far the best part about Outlook that must be mentioned is the it's connection with other domains. Not only multiple account logins, Outlook allows quick access to Google calendar, Google Drive, Dropbox and Onedrive. You can send files or photos, even sharing calendar from other domains freely.
Outlook is certainly your only choice for a complete email access and service control.
Download Microsoft Outlook for your desktop for a full experience.
Follow the latest news from our Facebook, Twitter and blog for more update.